Brad all set for Qatar raceday fight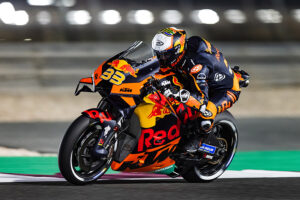 After five days of pre-season testing, MotoGP reconvened at the Losail International Circuit for the Grands Prix of Qatar and Doha in the space of a week for a nocturnal and frantic beginning to the 2021 campaign. The fast and weaving circuit has been a traditional home for the opening of the MotoGP championship – now 15 years as the first round – even if the premier class were unable to compete at the facility in 2020.
Red Bull KTM Factory Racing duo Miguel Oliveira and Brad Binder worked diligently to set-up their 2021 machinery through Free Practice on Friday and Saturday afternoon and evenings. The characteristics of Losail were frugal with the strengths of the KTM RC16s in terms of one-lap pace but there was optimism in the KTM camp for the race rhythm and the 22-lap distance to come.
The riders went into the Q1 qualifying session and it was Oliveira who headed the quartet with a time just 1.2 seconds from the eventual record-breaking Pole Position effort. The Portuguese had lodged inside the top ten and then the top four in the FP3 and FP4 sessions earlier in the day. He was three tenths of a second ahead of teammate Binder in 19th.
Brad Binder:
"A difficult day because we wanted to try and get through to Q2 but were just a couple of tenths shy of making the cut. I gave 110% and there was not much more I could do. We'll sleep on it tonight, work hard in the warm-up and fight as hard as we can in the race."
Source: KTM Racing