Brad fires back at baking Mandalika for #IndonesianGP top six finish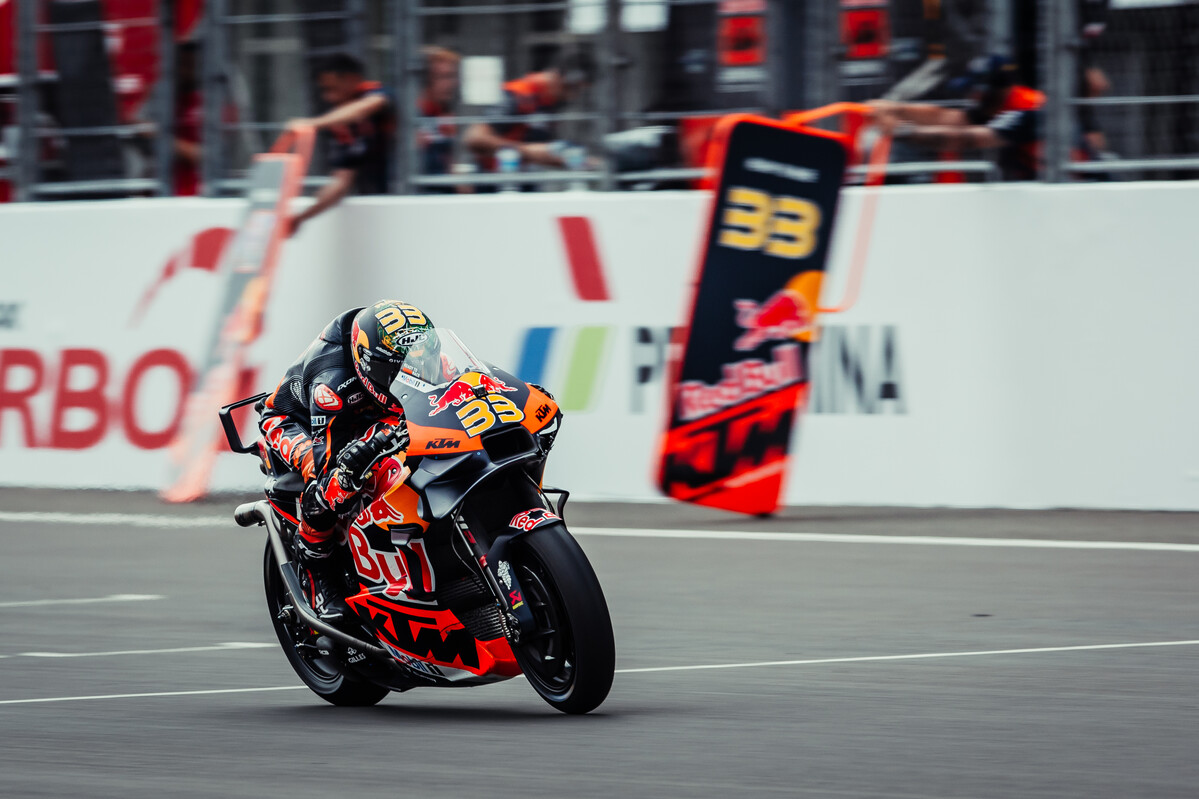 A steaming climate on the island of Lombok clinged to the Mandalika Street Circuit as Brad Binder made it through 27 grueling laps for round fifteen of twenty in 2023 MotoGP and classified in 6th position. The Indonesian Grand Prix was played out in front of a 73,000 crowd on Sunday and as the first of six events in the next seven weeks.
Mandalika shimmered and glistened in the October heat for the latest pulsating episode of 2023 MotoGP and with Red Bull KTM gritting their teeth for more rewards from the Indonesia Grand Prix in the wake of disappointment on Saturday.
The relatively new track was hosting MotoGP for just the second time and – aside from the excessive heat – the dirty state of the asphalt away from the main racing line presented the biggest obstacle or risk for brave overtaking moves. On Sunday the track temperature reached a frying 57 degrees.
Brad started rapidly but contact with another rider on the second lap while jostling for 3rd meant that the South African had to take a Long Lap penalty and dropped from 5th to 10th. He responded through the rest of the race to fight back but another touch meant he had to swallow the sanction again and ended a dramatic day with 6th.
Brad remains rooted in 4th spot in the championship standings. He has a 72 point deficit to the top three but holds a margin of 34 over the 5th place runner. The fantastically technical, fast and flowing Phillip Island circuit is up next for the paddock and far cooler climes south of Melbourne for MotoGP's next adventure.
Brad Binder

"I don't really know where to start. I was a bit unsure of which tire to choose and, in the end, the medium rear was the right one, so thanks to the team for helping with that. The first laps were quite OK. I just wanted to build-up confidence in the tire and I had a little shake in Turn 8 and when I went for the brakes in 9 the lever came right back to my fingers so I didn't have much pressure. I wanted to move out so I didn't hit the guys and the only place was the inside. So, I'm very sorry to the whole Mooney VR46 team and of course Luca [Marini]. After that I just tried to push and gain as much as I could but hit Miguel [Oliveira] into Turn 2: 100% my fault. So, more apologies to him and his team. Two Long Laps and I deserved them both. Considering everything we were lucky to finish 6th and to reach the flag. Phillip Island is my favorite track in the calendar, we just need to protect the tire there. I've had good feeling in the past so I hope it will be a positive weekend."